IN THE HEART OF HOLLYWOOD
Welcome
The Sunset Hue:
The Sunset Hue is an incredibly designed new construction apartment building. The building is centered on a U shaped open air courtyard that extends the entire height of the six story structure. Many of the units only share one party wall with the neighboring unit. Inside the units are spacious, have great natural light and natural ventilation.
The building's U shaped central courtyard around which an open air staircase and open hallways allow tenants to get to their unit without having to be in a confined space with other inhabitants of the building. The open air rooftop and 2nd level amenity spaces also allow tenants to recreate safely with plenty of ventilation. The 360 degree views from the rooftop are amazing and must be seen!
The units offer many amenities such as stainless steel appliances, modern high end kitchens, spectacular views to the Hollywood sign and the surrounding city, balconies with large sliding doors and other operable windows.
Curious or have questions? Feel free to contact us (323) 336-6993.
AIRBNB AS AN AMENITY
Like to travel? While you're away, you can host your home exclusively on Airbnb, monetizing your unused space and offsetting your rent. Property management has controls over hosting activity to help ensure a high-quality residential and guest experience.

Learn More
FLOOR PLANS
Comfortable, Sleek & Modern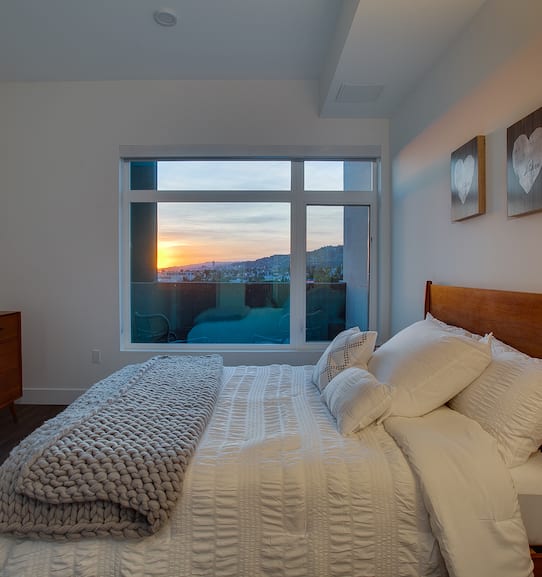 AMENITIES
LUXURY FEATURES
Roof deck with spectacular views, community WIFI, Courtyard, BBQ & lounge areas, stainless steel appliances, recessed lighting, in unit washer & dryer, controlled access, gated underground parking and more...